Bespoke Owner & Lead Cellist
Caitlin Tarver is a versatile, multi-faceted cellist with over 17 years of classical training and performing experience and 12 years of private lesson teaching experience. She earned a Bachelor of Arts Degree in Cello Performance from the College of Charleston (Charleston, South Carolina) where she was a four-year recipient of the Kite Scholarship in Strings and has recently been accepted into the Artist's Certificate Program under the tutelage of world-renown cellist Dr. Natalia Khoma. Her classical background includes a long list of professional solo and ensemble performances, most notably Carnegie Hall in New York City. Caitlin has also established herself as a contemporary and innovative performer on both traditional and electric cello. A rising YouTube sensation & solo artist (10+ million views), Caitlin continues to showcase a multitude of music genres such as pop, contemporary, jazz, and hip hop. Three of her most recent pop performances were as a cellist with Michael Bublé, 2Cellos, and Trans-Siberian Orchestra. Caitlin also owns and performs with Bespoke Strings, a music contract business providing tailor made music for private events, weddings, corporate parties, gallery openings, and more.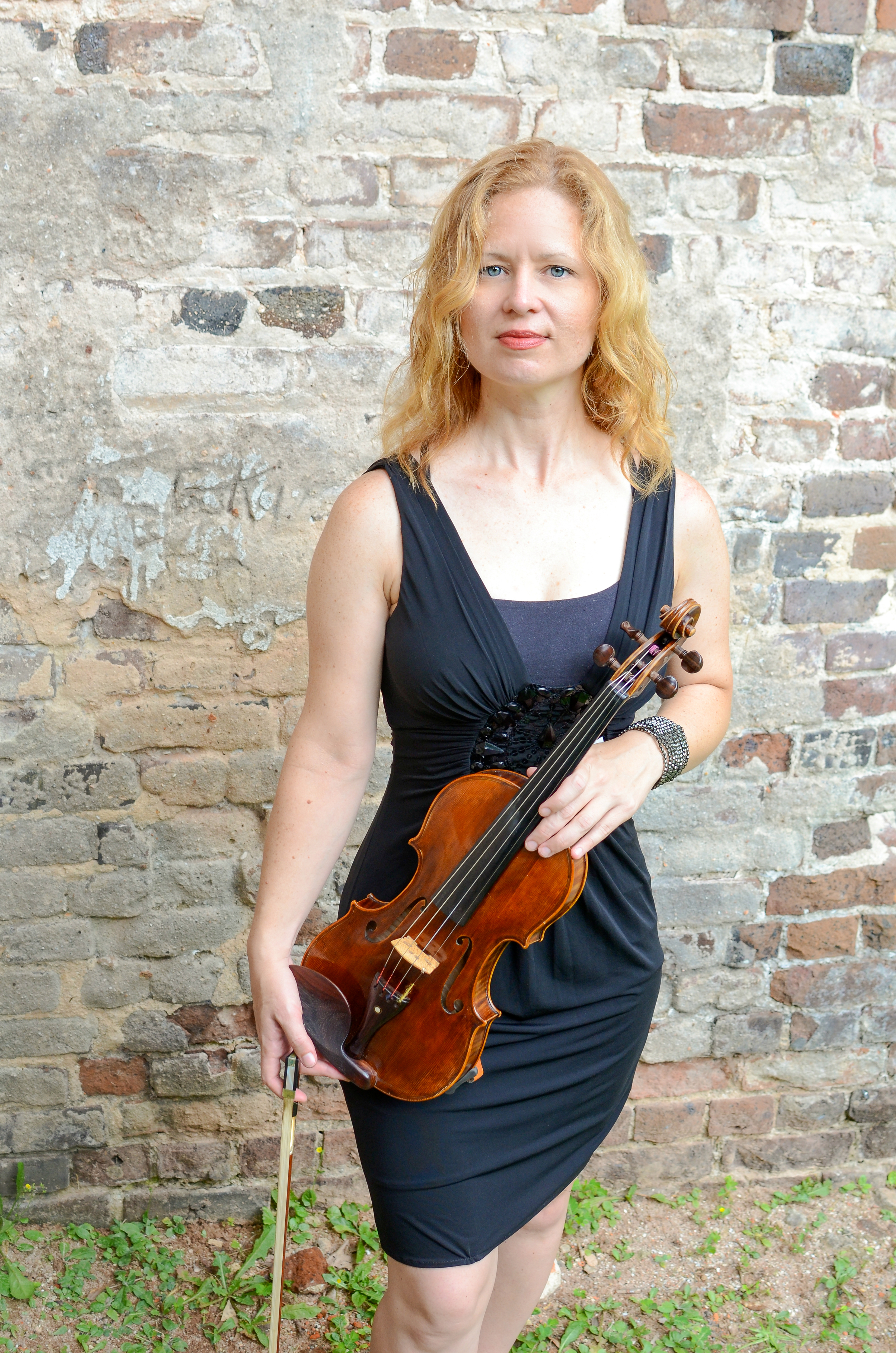 Robbi Kenney is an arts producer, composer, and arranger who is passionate about supporting other artists while bringing exciting programs to a variety of audiences. She began her formal training at the age of 4 and knew by the age of 6 that she would pursue music professionally. Her major teachers were Fernando Laires (Eastman School of Music), Oliver Steiner (Georgia State University), and Beth Newdome (former Atlanta Symphony assistant concertmaster). As a collaborative pianist, she served as the accompanist for the Charleston Symphony Orchestra Chorus and Gospel Chorus, the College of Charleston Concert Choir, and the Charleston Ballet Theatre. This led her to work as a guest music director for the Dock Street Theatre, the Footlight Players Repertory Company, the Village Playhouse, Midtown Studios, and the Charleston Music Hall. In 2008 she formed and organized Little City Musical Theatre Company, which was awarded the title of "Best New Musical Theatre Company 2009" by the Charleston City Paper. As a violinist, Miss Kenney has performed for 3 seasons as a first violinist with the Savannah Philharmonic Orchestra in addition to performing with the Aurari Gypsy Jazz Ensemble, the Roanoke Opera Company, the Savannah Theatre Company, and the North Charleston Pops Orchestra, where she currently serves as Principal Violist. As a pops artist, she has recorded with Mark Bryan (Hootie and the Blowfish) and has performed live with Quiana Parler, Michael Bublé, Elise Testone, the Trans Siberian Orchestra, Strings of the South, Aslyn, Justin Rosolino, Martin Chalk, and Sarah McLachlan.
Chelsea Murphy began playing the violin at age 4, studying with acclaimed Suzuki instructor, Carol Sykes until the age of 13. For the following five years, Chelsea was an active member of the Boston Youth Symphony under Federico Cortese, playing in some of the world's most renowned venues, such as Boston's Symphony Hall, England's Chichester Cathedral and Tanglewood's Seiji Ozawa Hall. During this time with the BYSO, she studied with BSO violinist, John Holland and went on numerous international tours. During the summer months, Chelsea spent time at festivals such as Soundfest Chamber Festival, under the Colorado String Quartet and Tanglewood's Young Artists Orchestra. Son after, she went on to study with Dana and Yuriy Mazurkevich, students of renowned violinist, David Oistranhk, at the Boston University College of Fine Arts. She then continued her education at the College of Charleston where she studied with CSO Concertmaster, Yuriy Bekker. During her time at the College of Charleston, she was an active member in the Charleston music scene and the Concertmaster of the College of Charleston Orchestra. Currently, she is actively playing in venues around Charleston and teaching young children at a local Montessori school.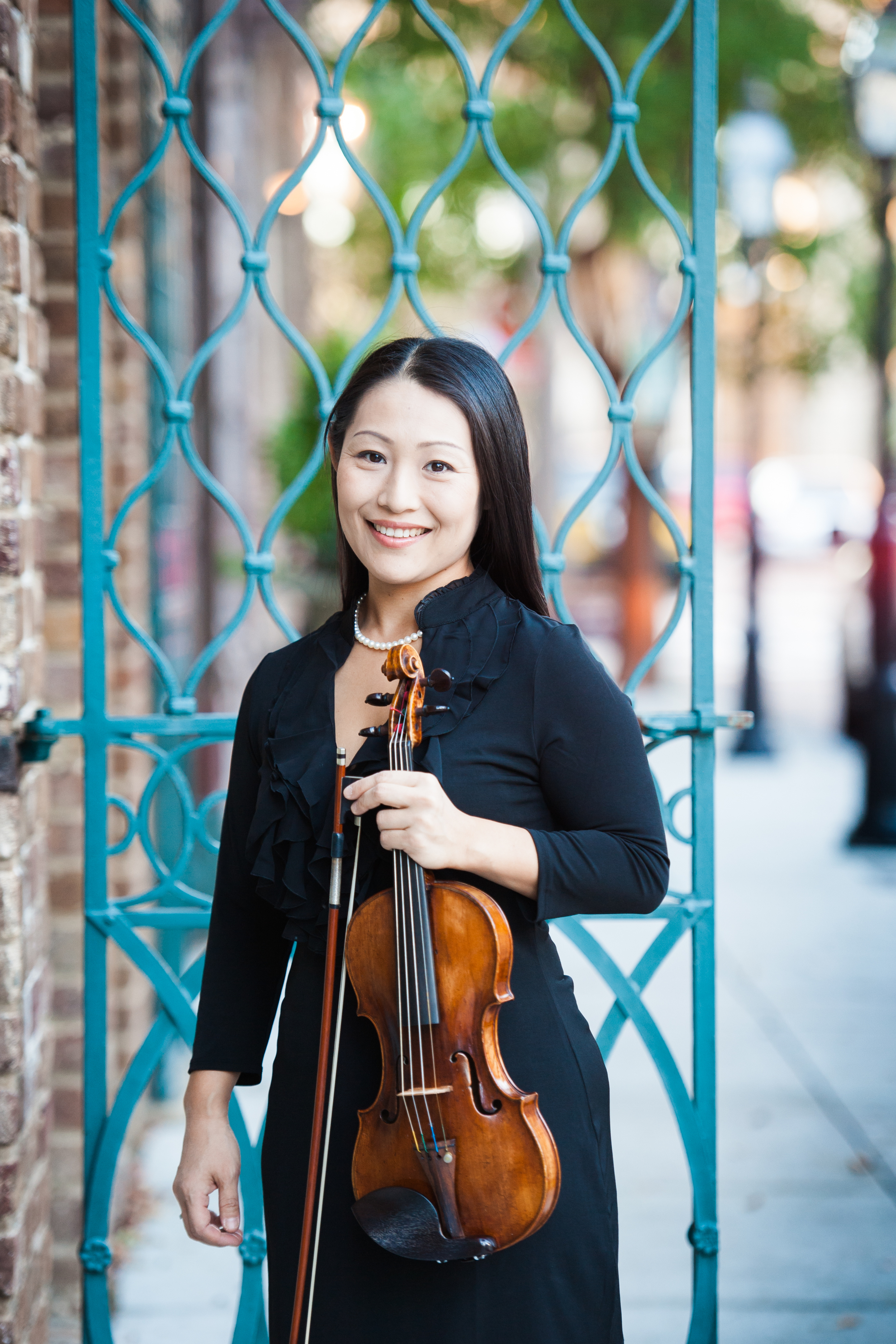 Mayumi Nakamura began studying the violin at the age of nine. By age twelve, she was a featured soloist on a live radio broadcast with the Hiroshima Symphony Orchestra. She has performed extensively as a soloist and chamber musician throughout Japan, South Korea, and the United States.
Mayumi gave her New York City recital debut in Carnegie's Weill Recital Hall in 2002. Mayumi also has a broad range of orchestral experience, having performed with the Atlanta Symphony, Charleston Symphony, Manhattan Chamber Orchestra, Hiroshima Symphony, Hilton Head Symphony, and many others.
She received her Bachelor's Degree from the Tokyo National University of Fine Arts and Music before moving to America, where she earned a Masters degree from the Manhattan School of Music in 2000 and a Professional Studies Diploma from the Mannes College of Music in 2003. Her teachers included Ariana Bronne and Todd Phillips respectively.
Ryan Silvestri is a professional violinist and educator. A native of Boardman, Ohio, Mr. Silvestri earned a bachelor's degree in instrumental music education from Florida State University. He earned a master's degree in violin performance from UNC-Greensboro where he performed in the graduate string quartet and was a winner of the annual concerto competition performing the Tchaikovsky Violin Concerto. He completed his string education studies with the late Dr. Michael Allen, co-author of the Essential Elements for Strings series, as well as Dr. Rebecca MacLeod. As a violinist Ryan has performed with the Charleston, Greensboro, and Tallahassee Symphonies and also served as Concertmaster of the Brevard Music Center Sinfonia Orchestra under the direction of former Pittsburgh Symphony Concertmaster Andres Cardenes. He is currently a first violinist with the North Charleston POPS! Orchestra and serves as the Director of Orchestras at Wando High School in Mount Pleasant. Ryan has studied violin with Marjorie Bagley, Corinne Stillwell, John Wilcox, and former NY Philharmonic Concertmaster Eliot Chapo. Ryan lives in Mount Pleasant with his wife and two children. In his free time, he enjoys playing tennis and exploring the outdoors in the beautiful SC lowcountry!
Violinist James Anderson has been hailed by critics as a violinist "who bucks tradition," a "world class violinist, improviser, and composer," and "the most swinging violinist in Colorado." A Fort Collins, Colorado native and violinist since age five, James is at home in a number of musical arenas including classical, jazz, tango, bluegrass, and rock to name a few. After graduating from high school in 2003, James continued his music studies at the University of Northern Colorado with a violin scholarship. While at UNC, James became an active performer on the Colorado Front Range - performing more that 100 concerts of all types every year - and would become the concertmaster of the various, award-winning UNC orchestras. After graduating with honors, James was accepted to the prestigious Guildhall School of Music and Drama in London, England for graduate studies. While in England, James became a regular on the vibrant London jazz scene while studying alongside some of the world's finest classical performers such as the Belcea String Quartet and the London Symphony Orchestra. James has been featured in concert halls around the globe including London's Wigmore and Barbican Halls, and the Sala Mozart in Zaragosa, Spain. James has performed with some of world's greatest fiddlers such as Mark O'Connor, Doug Kershaw, Christian Howes, Alex Hargreaves, and Darol Anger; has performed with tango legends Pablo Ziegler, Hector del Curto, Pedro Giraudo, Gustavo Casanova, Victor Lavallen, Pablo Agri, and Pablo Estigarribia; has collaborated with such artists as Eddie Vedder of Pearl Jam, Marcia Ball, Fyfe Dangerfield, Carolyn Wonderland, Grant Gordy, Bruce Adolphe (aka The Piano Puzzler); has opened for acts including Chaka Khan, Stanton Moore, Ben Taylor, and Railroad Earth; has recorded for both film and television including the soundtrack to the major motion picture "Bernie" starring Jack Black and NBC's "Smash"; and has been a soloist and chamber musician featured with orchestras and chamber music festivals around the country. His tango ensemble, The Austin Piazzolla Quintet, has been hailed as "one of the country's foremost tango ensembles," "sublime," "tango at it's best," and "a phenomenally polished and exciting ensemble." After seven years on the renown Austin, Texas music scene, James is now based in Charleston, South Carolina and is an in demand violinist and teacher on the vibrant music scene.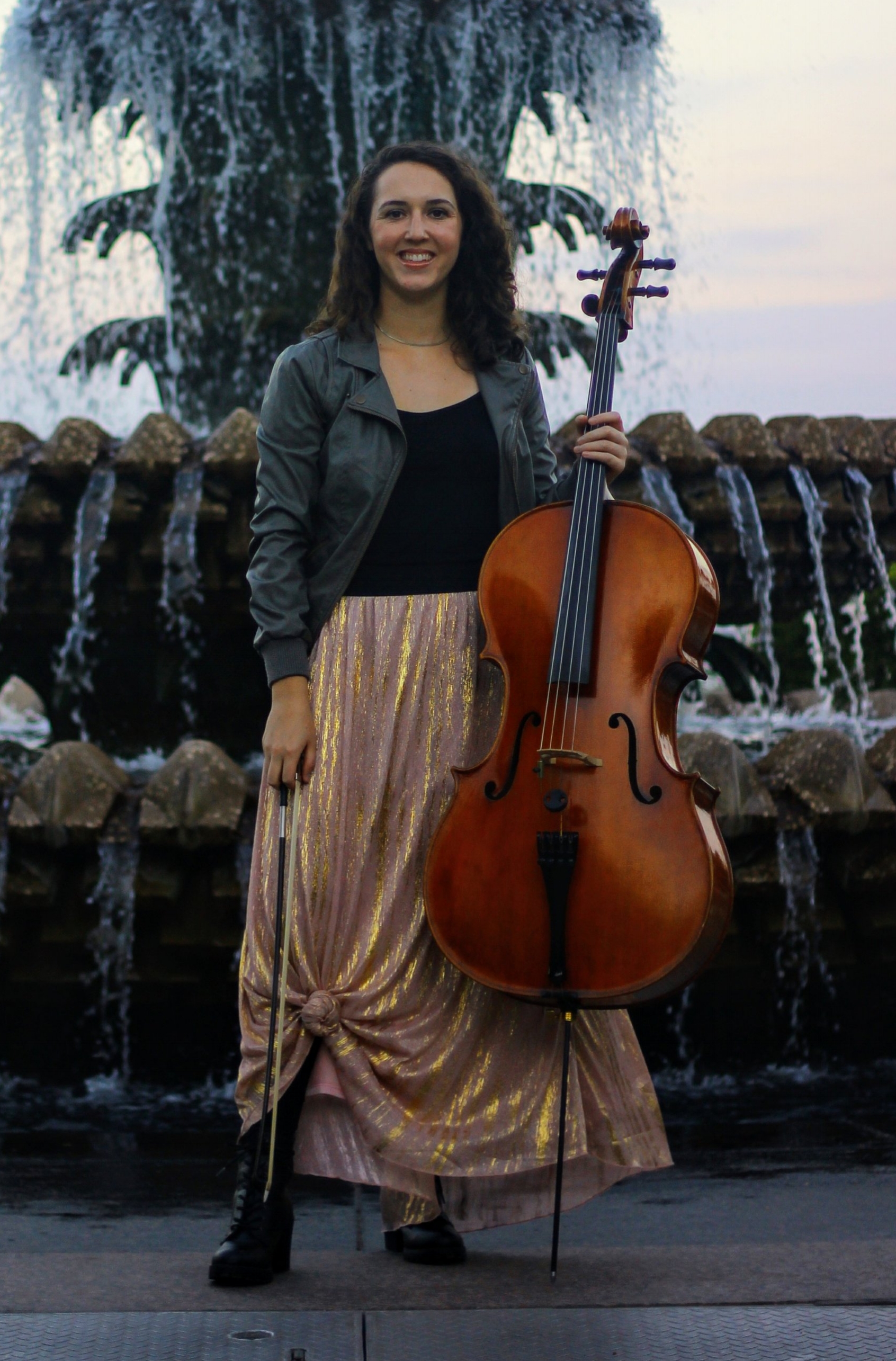 Elizabeth Johnson is a classically trained cellist from Charleston who performs regularly with the North Charleston Pops! Orchestra and with various chamber ensembles for local weddings and events. She was a featured soloist of the Young Artist Series for Piccolo Spoleto in 2016 and 2017, and has performed with Mary Wilson of the Supremes and Jackie Evancho from America's Got Talent. In addition to her performing engagements, Elizabeth is a full time orchestra teacher for Charleston County School District at Simmons-Pinckney Middle School and James Simons Montessori School, and instructs private cello lessons to students of all ages. Elizabeth received her Bachelor's of Music from the University of South Carolina under the tutelage of Dr. Robert Jesselson and Dr. Gail V. Barnes, and completed an Artist Certificate in Cello Performance from the College of Charleston with Professor Natalia Khoma.
Audra Claire McCall, a native of Charleston, South Carolina, began doing public violin
performances at age 5. Since then she has soloed with symphonies around the state;
including the Civic Metropolitan Orchestra, the Southcoast Symphony, the
Charleston Symphony Orchestra, and the Hilton Head Symphony. She had been a
soloist on multiple concerts with the College of Charleston Concert Series, the
Drayton Hall Plantation Candlelight Concert Series, the Friday Night with the
Classics Series, the Emily Remington Concert Series, the Millennium Music Spotlight
Concert Series, the Hilton Head Symphony Musicale, the Charleston First Night
Concert Series and other independent concerts throughout the state. Ms. McCall was
a featured performer for Celtic Sounds at the Logos Theater in Greenville three
years in a row. She also played with the Trans-Siberian Orchestra during their 2016
holiday season, and has played for other events such as TedX Charleston. Ms. McCall
attended the Aspen Music Festival and School for eight years where she did several
performances on the Young Artist Concert Series. She was also the co-concertmaster
of the Youth Orchestra of the Lowcountry. In 2008 she won the Charleston
Symphony Orchestra League Concerto Competition. In the same year she soloed
with the Charleston Symphony Orchestra for the opening of the Spoleto Festival
International. Ms. McCall concurrently studied with Paul Kantor of Rice University
for eight years and Amos Laurence, the former assistant concertmaster of the
Charleston Symphony, for eleven years. Ms. McCall currently gives private
instruction and does local performances. Ms. McCall plays a circa 1755 Gagliano.
Zoe Whittaker has been studying the violin for over 14 years. Her education includes a Bachelor of Arts Degree in Violin Performance from the College of Charleston in May 2014 and is beginning her Masters of Music Degree this Fall. Zoe was the Assistant Principal of the College of Charleston Chamber Orchestra for 4 years and the recipient of the CATO Arts Scholarship. Additionally she was awarded the Mary Stewart Allen Award for Violin in May 2013 and the Outstanding Student Award for Music in May 2014 from the College of Charleston. Performances include those with the Piccolo Spoleto Festival 'Young Artists Series', Beaufort Symphony Orchestra and USC Symphony Orchestra. Zoe was recently contracted as a violinist with the Flagstaff Symphony and was awarded a graduate assistantship from Northern Arizona University.

Samantha Clark (Price) began playing the viola at age 6 in Lexington, Kentucky. During her studies here, she participated in the Central Kentucky Youth Orchestra- including their Italy tour in 2002 and winning their Bochardt Concerto Competition, Kentucky All State Orchestra, and attended the Kentucky Governor's School for the Arts and SCAPA (School of the Creative and Performing Arts). All of this lead to her decision to pursue a Bachelor's degree in Viola Performance at Converse College in Spartanburg, SC. While in Spartanburg, she studied with Miles Hoffman, founder of The American Chamber Players and commentator for NPR. She also performed in the Spartanburg Philharmonic, Asheville Symphony, Hendersonville Symphony and the Brevard Philharmonic. Samantha then earned her Master's degree in Viola Performance at CCM in Cincinnati, where she studied with Dr. Catharine Carroll and Masao Kawasaki. She is currently an active teacher and performer in the Charleston area.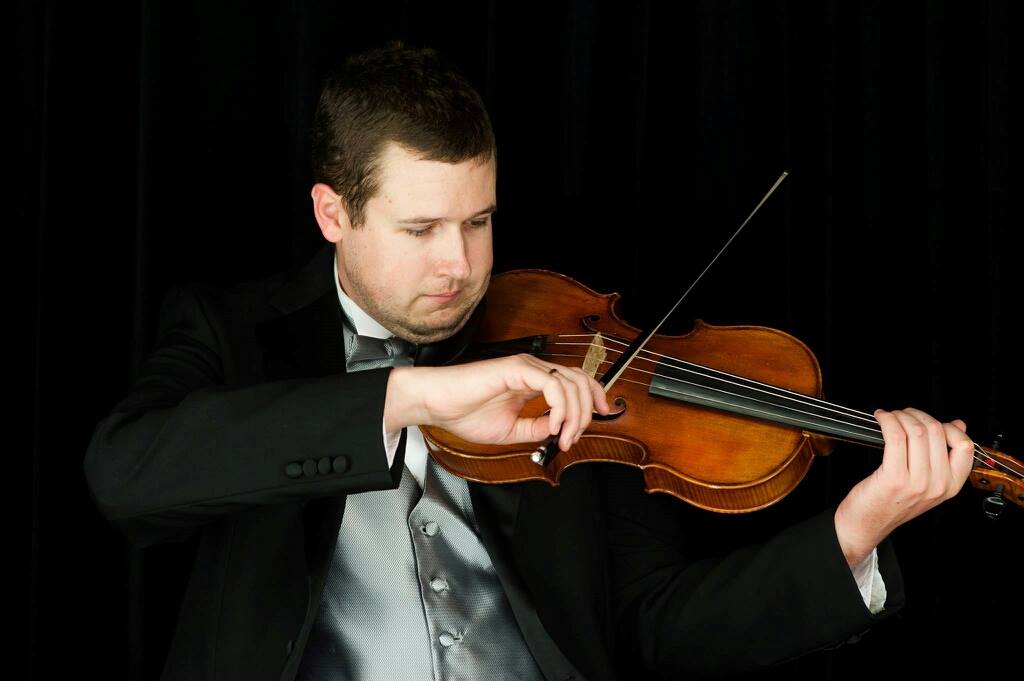 A native of Charleston, South Carolina, violin/violist Matt Peebles earned a Bachelor of Music degree from the University of South Carolina, studying violin with Ryan Kho and Neil Casey, and viola with Constance Gee. He plays regularly throughout the Southeastern United States, most recently with the Charleston and Hilton Head symphonies, and as a founding member of the North Charleston Pops!. He has played concert tours through Hungary, Austria, Italy, and Spain, including performances with the Dochnanyi Orchestra Budafok and a featured performance at the 2011 Spoleto Festival in Spoleto, Italy. He has also performed with such notable groups as Trans-Siberian Orchestra, Earth Wind and Fire, and Mannheim Steamroller. An active music educator, Mr Peebles taught for four years at the USC String Project, and spent two summers as a resident counselor and staff violin/violist for the Carolina Summer Music Conservatory at the USC School of Music. He was formerly Orchestra Director at DuBose Middle School and Ashley Ridge High School, and was named DuBose Middle School Rookie of the Year and Dorchester School District Two Honor Rookie of the Year for the 2009-2010 school year. He is a regular violin/viola clinician for SCMEA orchestra events, and maintains a private violin/viola studio in Charleston, South Carolina. Outside of music, he holds a USCG Master Captain's license, and one is likely to find him enjoying the waters off the coast of South Carolina for both work and play.
Maximilian Mross grew up in Pittsburgh, Pennsylvania. He began studying piano when he was only three years old, and showed such extraordinary talent that by the age of twelve, he was admitted to the Duquesne University music program. At Duquesne, Max studied college level music theory and performance with some of the region'a best college students and professors. After the program, Max continued studying piano under Dr. Taras Filenko, the renowned winner of the International Piano Series. Max has a passion for people and went on to study Sociology and Music at the College of Charleston. You can find Max on YouTube with 7 million views on his latest video with cellist Caitlin Tarver.